Weddington Ridge Report March 2017
I'm a huge fan of the Weddington Ridge neighborhood. I live next to it, and frequently bike through it on my rides. From the variety of homes, the friendly neighbors, to the amenities – As YOUR Matthews Realtor, in my opinion it's simply one of the best places to live in the entire Charlotte Region!
Unless you've been living under a rock, you've probably heard about the hot real estate market in our area, and overall it's absolutely TRUE! There's a shortage of homes on the market, and buyers can have limited choices.  Houses in good shape, priced right, and in good areas tend to sell quickly!
But you may be wondering "how is the Weddington Ridge market specifically?"
So I put together this quick look at the Weddington Ridge housing market, as well as an update of what's for sale and moving in our community right now!
Weddington Ridge Year to Year
First, let's take a look at the sales activity Weddington Ridge has had recently. I took a look at January 2016 till the end of February 2017:
20 Sales
1 Expired without selling (later re-listed)
3 Currently "Under Contract"
2 Currently For Sale 
So Weddington Ridge is averaging about 1.5 houses sold per month, so having 2 houses for sale right now is only a 2 month supply. With an overall Charlotte-Area market having only a 2.3 month supply, Weddington Ridge is sitting pretty, right below the average!  And remember, we're entering the busy season and right now there are far more buyers out and looking than there are homes for them to buy!
The Days On Market – from when a property is listed until it sells – was strong for our neighborhood and reflects the overall market.  
Our Under Contracts median time was 44 days, but that's skewed high. Two of the currently under contracts were 44 days and 69 days, but the third was under contract in just 2 days!
Out of 20 recent Sales – 13 of them were on the market for less than 30 days before they sold! Expand it to 90 days and the total was 18 houses sold!
Price Per Square Foot –  the price per square foot of the homes, which ranged from a low of just over $58/sf (a foreclosure) to over $114/sf, did not correspond directly with the time on the market. In fact, generally speaking, the smaller homes in the 2300-3000 sf range seem to have sold faster overall.  Setting the right price, or adjusting quickly based on market conditions, based on the condition of the property got the homes sold up and down the price and size range!
Now, for the number wonks, here's a couple of graphs for you!
Weddington Ridge Median Sales Price
Weddington Ridge Average Price Per Square Foot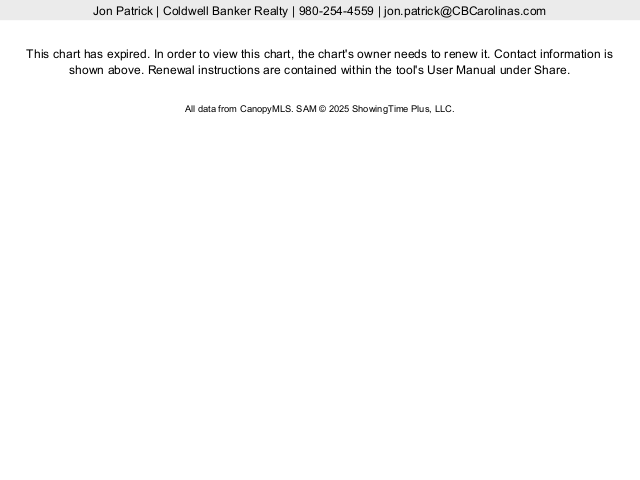 As your Weddington Ridge Realtor, I tell people who are considering a move this: it's attention to the little details that matter.
With the age of these homes, it's worth it to invest in fresh (neutral) paint, new carpet and/or laminate floors, consider new countertops, clean the floors, declutter and/or stage, mow, fresh plantings and mulch. 
Will it sell without any work? Well, probably, but it will take longer as you compete with homes that are more updated and in great shape – And remember, the longer it sits on the market, the more buyers begin to think there's something "wrong" with it, and in today's market that can happen really, really quickly! Honestly, if you're thinking of a move, get with a trusted Realtor and listen to their advice!
Also, look at the other homes for sale (your competition) and that have sold. Do they have new carpet? New counters? Hardwood floors installed? See what's been selling at if they've been upgraded and that's the target you need to hit. These are all items that can affect the price you ask for your home, and your future buyers expect it. 
Weddington Ridge Sales Prices
I know, I know.  You're wondering about prices.
Well, we ranged from a low of about $225k to $295k!
(if you want to keep track of what's going on in the neighborhood, I have a FREE Monthly Market Report I can send out to your email. You get to see what's for sale, under contract, and sold! Just click here and set yourself up!!!)
Weddington Ridge Farms This Month
Right now, at the time I write this, there are just 2 houses for sale in Weddington Ridge. One 3100 Sf off Huntington Ridge for $300k and another over 4,000 sf off Weddington Ridge Ln for just under $380k.  Check the up-to-date list here:

On a personal note: as your neighbor who's a Realtor and completely passionate about the community, I've found that buyers in Weddington Ridge are very price sensitive! I've seen multiple times that a home that is over priced, even if only by $4k-$5k, will sit on the market.
Many homeowners think that buyers will just "Make an offer", but I've seen over and over again that buyers have heard how busy the market is, they may have lost out on multiple offers already, and they will NOT put in a low bid… they'll chose to just move on! Not every one of course, but enough to sometimes push houses into 60+ days on the market.
With Spring coming, the busy season is coming and NOW is the best time to be getting your home on the market, but my advice to every homeowner I talk to is simple: listen to the buyers, and if you aren't getting offers quickly in a great neighborhood like Weddington Ridge, you need to adjust your price quickly.  I'm happy to sit and talk about this with you.
In closing, anyone can sell a house, but not everyone can be a passionate advocate for it like I can! If you've been considering a move, I encourage you to reach out to me and let's have a conversation about the market, your home, how to navigate the complex and confusing process, and how our Executive-Level marketing gets houses better positioned, better marketing, more views, and gets your house SOLD!
Have a great day!
Jon
Jon Patrick
Mahool Nance Team
RE/MAX Executive
Jon.Patrick@MahoolNance.com
(m) 980.254.4559